Watch Jasheeel Ramphul's 3D video tour of the beautiful "Les Vues d'Anbalaba" apartments. Each of these apartments offers its occupants the utmost privacy alongside exceptional views of the lagoon and coral reef below. From your home, you'll watch whales cruise in the distance and have only the ocean as a view.
The Vues d'Anbalaba apartments consist of three bedrooms and two bathrooms ​​laid out over 170 m2. Each bedroom, including the master suite that opens onto a balcony, has been designed to maximise its occupant's comfort. The apartments' living rooms extend onto beautiful terraces where you can relax and admire the lagoon's shimmering turquoise hues. Apartments located on the ground floor also enjoy a private outdoor area consisting of a small garden to further enhance their occupants' wellbeing.
Les Vues d'Anbalaba apartments on the first floor
Living/dining room = 24.6 m2

Open-plan kitchen = 19 m2

Veranda  = 33.3 m2

Laundry room = 3.2 m2

Guest toilet = 2.2 m2

Master suite with walk-in closet and en-suite bathroom = 32 m2

Master suite balcony = 5.5 m2

Bedroom 1 = 15 m2

Bedroom 2 = 13 m2

Bathroom = 5.7 m2

Cellar = 2.4 m2

Hallway = 13 m2
TOTAL = 169 m2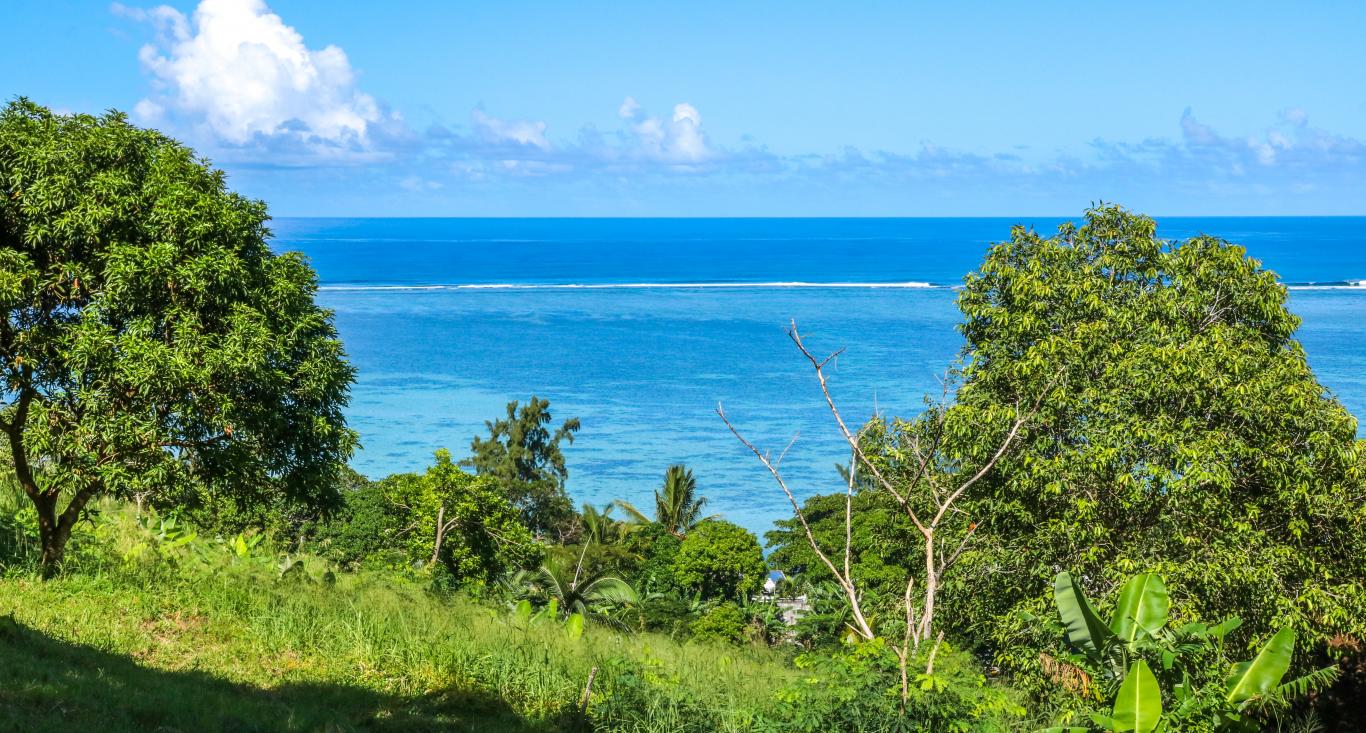 The Mauritian Lagoon
Mauritius is surrounded by a virtually uninterrupted coral reef enclosing a lagoon of clear blue water. The lagoon can be up to several kilometres wide and is the largest off the island's east coast. It is up to 54 m deep and is home to more than 50 species of corals as well as an incredible variety of fish. It's the perfect place to introduce your children to the pleasures of snorkelling in crystal clear water, at one with nature and surrounded by brightly-coloured fish. Just beyond the coral reef, the depth increases sharply as the continental shelf drops off. A great many dive sites are available here, such as the Passe Saint Jacques, a narrow cleft between two underwater ramparts as you exit the lagoon.
Diving in the lagoon