Breathtaking views of the lagoon, enough room to create the living space of your dreams, a luxurious pool in the heart of a lush garden… the "Cardinal" villa design has everything it takes to seduce those planning to buy a villa in Mauritius.
Buying a villa in Mauritius means choosing inimitable comfort, exceptional service and supreme refinement. The eight prestigious Cardinal villas are no exception to this rule. Located in the Hauts d'Anbalaba and overlooking the Anbalaba village and the ocean beyond, the villas consist of 564 m2 of space dedicated to their inhabitants' wellbeing. Laid out over several floors, they offer superb views of the turquoise waters of the lagoon from both the living room and the magnificent master suite. The stuff of dreams…
In a nod to traditional Mauritian architecture, the Cardinal villas' stunning living space extends outward onto a handsome veranda. The emphasis is on large open spaces for outdoor living – the better to enjoy the villas' incredible natural setting. A space that can be used as an office or TV room on the same floor brings the design full circle by perfectly adapting to your needs. And the rooms, you ask? You'll find them on the garden level. Because above all, the "Cardinal" villas are set apart by their separation of day and night spaces thanks to their unique design by Morphos.
At garden level are three pleasant bedrooms, all with en-suite bathrooms for their occupiers' convenience. On the mezzanine level below, secluded from the other bedrooms, you'll find bedroom number four; making it possible to have friends to stay while offering them a measure of privacy, or to give your teenager his or her own space. What's more, you need only walk a few steps down from the living area to unwind by the magnificent pool and sip a cold drink under the gazebo, while savouring the tranquil spectacle of the lush garden that surrounds your home.
As you'll no doubt have understood, when you buy a villa in Mauritius and select the prestigious Cardinal villa design, you choose an incomparable quality of life.
Discover the 8 prestigious Cardinal villas:
Cardinal  V1 - Cardinal  V2 - Cardinal  V6 - Cardinal  V7- Cardinal  V8 - Cardinal  V9 - Cardinal  V15 - Cardinal  V16 
Acheter une villa à l'Ile Maurice: et choisir la Villa Cardinal V1
LES PLANS A PLAT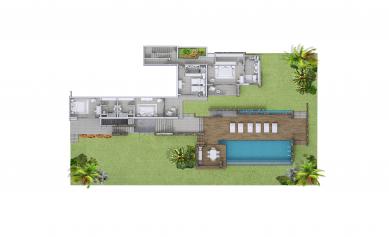 Plan du rez-de-jardin
Le rez-de-jardin de la Villa de Prestige "Cardinal" spacieux, avec ses grandes chambres.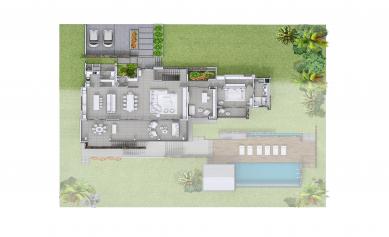 Plan du Premier étage
Le premier etage de la Villa de prestige "Cardinal" avec son immense varangue donnant sur le lagon.
SPECIFICATIONS
Telechargez le document avec toutes les specifications des unites d'Anbalaba.