If, like us, you are in love with Mauritius, do not miss the works of Vaco mauritian painter, this local painter with international renown, who inspired the graphic identity of Anbalaba.
Do you want to forget the autumnal greyness of the autumn? Then discover right now, Vaco and his colorful works. This Mauritian painter born in 1940 on the Island left his home and lived in Paris, Brussels or Africa, before returning to Mauritius in 1990. Hard indeed to resist the call of the pearl of the Indian Ocean, with its scenery of dream between luxuriant nature and beaches of fine sand, and with its unique sweetness of life. Vaco then opens his workshop and teaches painting, while decorating the walls of the main mauritian companies with his own works and exhibiting with his students.
True symphonies of colors, his paintings are an excellent interpretation of the Mauritian life: alive, bright, authentic. In 1998, he opened his gallery in Grand Baie and represented Mauritius in the largest international art fairs. His works begin to travel all over the world. Paris, Brussels, Friborg, Australia, New Zealand, Hong Kong ..., the artist bring the soul of Mauritius to the four corners of the planet. Because yes, each art of Vaco carries in him a part of the Mauritian identity. Nobody better than him can praise femininity, folklore, but also the local fauna and flora, with a simplicity and generosity typical of Mauritius. His works have inspired stylists Anaïs Lionnet and Fabien Fouzou, who created in 2013 a collection of dresses with flamboyant hues.
And because Anbalaba wants to preserve and promote this same Mauritian authenticity, Vaco has created an original work to create the graphic identity of the project in 2017. This is the affirmation of a strong link between Anbalaba, Mauritius and its culture multi-faceted.
To discover the works of Vaco, visit his website
Discover a very nice interview of VACO, the mauritian painter:
VACO Mauritian Painter 's art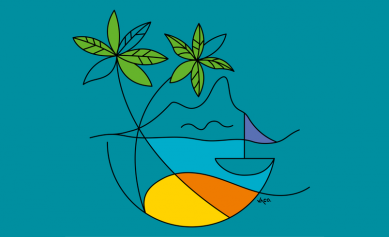 Illustration of Anbalaba
Illustration done from a drawing.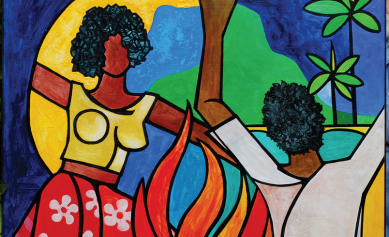 The Sega's dansers
Acrylique on canvas 90x90 cm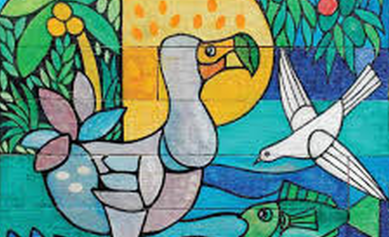 Le Dodo au soleil rose
Acrylique on wood 90x90 cm