Combava - M8
Les Terrasses d'Anbalaba Côté Lagon
This Combava model offers 192 m² of living space on a beautiful plot of 653 m². This house is built according to a unique design and face the peaceful waters of the lagoon.
Contact us
A question ?
One of our advisors will be happy to help you
A stand-up paddle is set aside for each house's buyer, allowing them to combine physical activity with relaxation on the Baie du Cap lagoon.
3

Rooms

2

Bathrooms

192

Surface area
Two of the eleven houses located in "Côté Lagon" and built on the right bank of the Anbalaba creek are of the Combava design. This model was specifically created to hug the landscape at Anbalaba and offer superb views of Baie du Cap's turquoise lagoon.
The resulting houses, built in a tropical elegant style, are arranged a pleasant, sun-filled patio. This extends onto a beautiful terrace with a blue mosaic swimming pool in which to take a refreshing dip at any time of day. The houses' welcoming living areas, including a well-designed kitchen, cosy living room and beautiful dining room, are located to one side of the patio. In the wing opposite are three bedrooms, of which one master suite, offering the utmost in comfort. Reflecting the originality of the houses' design, two of the bedrooms share the same bathroom.
Surface plan
SUMMARY
Houses on landscaped terraces
Views over the lagoon
192 m² of living space on one floor
Patio
Laundry room
Swimming pool (29,3 m²)
Les Terrasses d'Anbalaba Côté Lagon
The 33 exceptional houses that make up Les Terrasses d'Anbalaba are grouped into three charming and distinctive districts, whose names reflect their location within Anbalaba: Côté Manguiers, Côté Lagon and Côté Village. The former boasts a unique forested setting graced with centuries-old mango trees and a picturesque creek, while the second district offers stunning views over the shimmering waters of the lagoon. The latter is ensconced within an exceptional endemic garden, only steps away from Anbalaba village and its many amenities. Regardless of where they are located, the villas are built on terraces, allowing them to blend seamlessly into the lush, undulating landscape of Baie du Cap.
Taken together, the project's five different house designs make for an elegant built landscape in perfect harmony with the site's topography, offering glimpses of the cerulean lagoon and taking into account the path of the trade winds. Their names evoke the fragrance of citruses: Bigarade, Calamondin, Pomelo, Combava and Cédrat.
Pack deco
Zen Atmosphere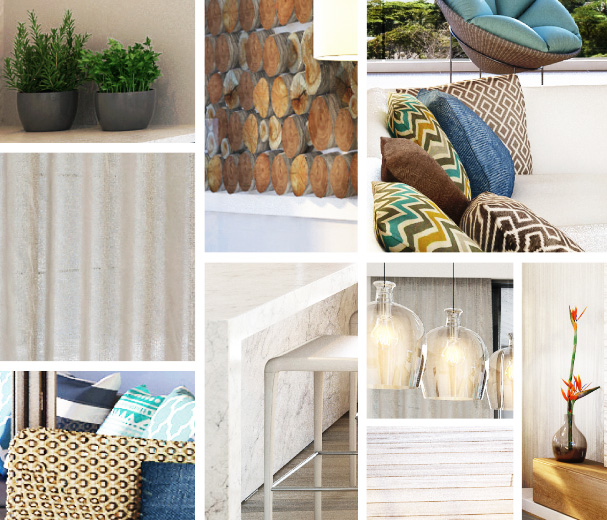 The Zen Atmosphere pack is characterised by soft, soothing, natural hues such as beige and white, conducive to relaxation and serenity. To these restful shades are added fluid lines and careful lighting. Together, they create a muted, cosy atmosphere and a sense of fulfilment.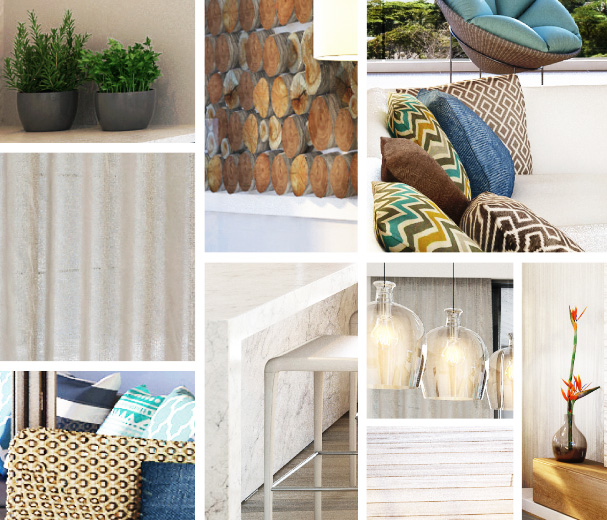 Subscribe to our newsletter