The Villas Nomadic, bioclimatically designed, immerse you in Mauritian heritage.
The 14 Nomadic Villas are now on sale! Our innovative real estate program offers two types of upscale property south of Mauritius: the Nomadic Villas. They are climatically designed, perfectly adapted to the island's weather conditions, and greatly enhance the natural heritage. These villas will seduce you with their open spaces and large veranda to enjoy all the surrounding nature. With a breathtaking view over the lagoon, they offer a unique opportunity to live on the south coast of Mauritius. Discover the two villa models, Guetali and Rivulet, which offer two different architectural styles.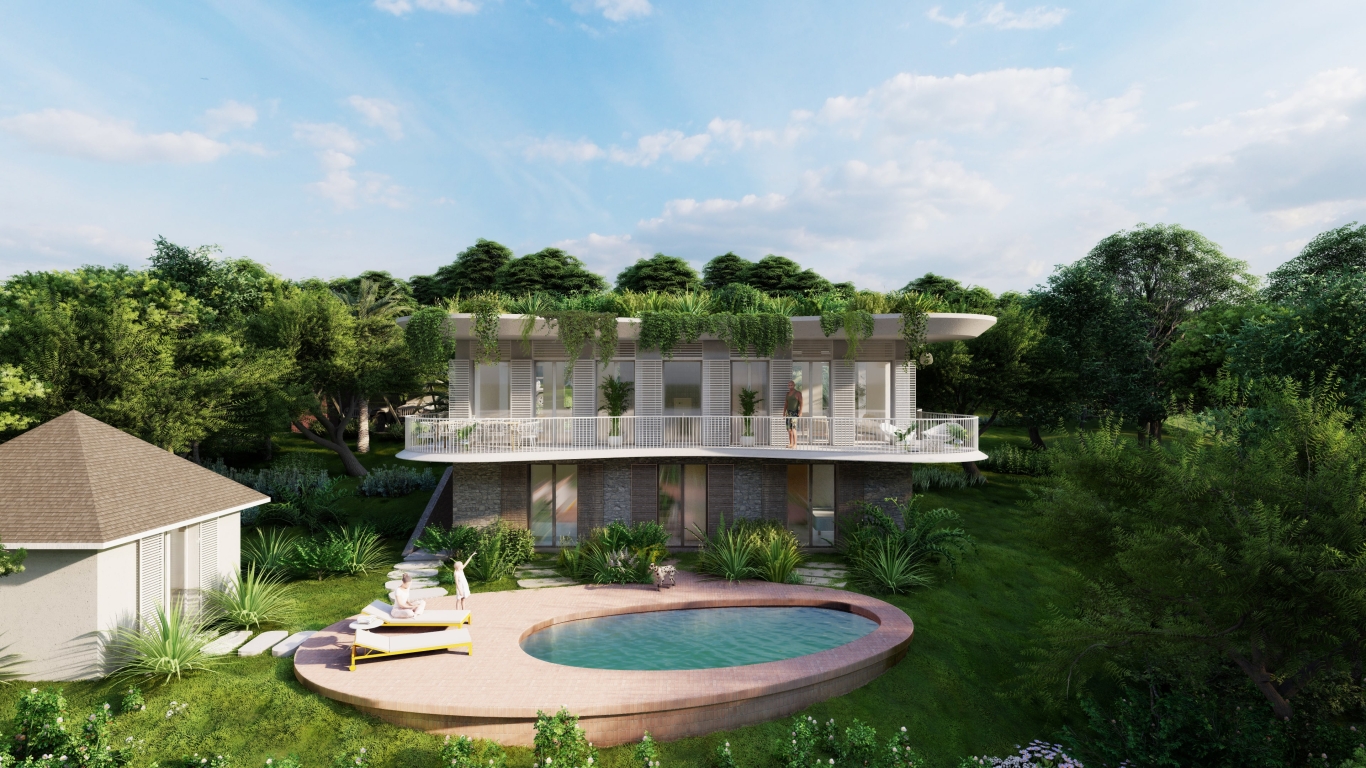 Located upstream from Les Terrasses d'Anbalaba, on the heights of the estate, the Nomadic Villas "Guetali" and "Rivulet" have been designed according to Mauritian architecture. In total harmony with the island, you'll enjoy a gentle lifestyle, in optimum comfort all year round.
GUETALI VILLAS FOR A TRADITIONAL EXPERIENCE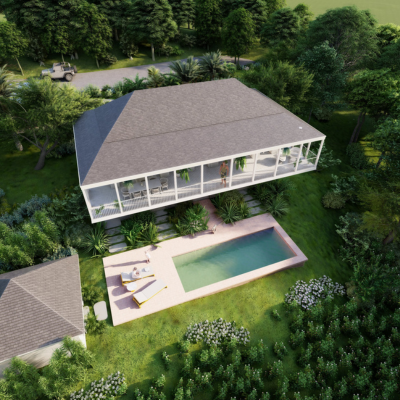 The 6 bioclimatic Guetali villas are characterized by their typically Mauritian architecture. Influenced by the design of homes of yesteryear, such as the magnificent Maison Eureka, these villas offer a true immersion between the architectural heritage of Mauritius and modern comfort. The large living room opens onto a veranda.
RIVULET VILLAS FOR A TROPICAL ENVIRONMENT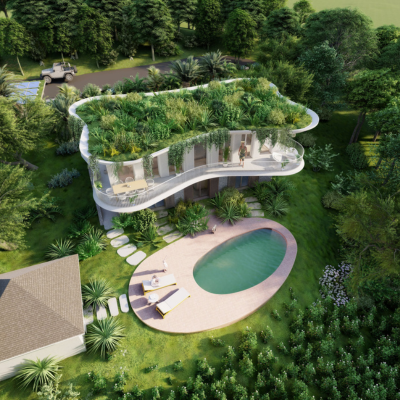 The 8 Rivulet bioclimatic villas combine comfort and modernity thanks to their avant-garde architecture. The green roof provides excellent thermal insulation, keeping the interior cool. The villa blends perfectly into the lush landscape, and its owners enjoy total harmony with nature.
Model design
On the first level, a large, bright 55m² living space welcomes you. So that you can live outdoors all year round, this main room opens onto a vast veranda. This allows you to enjoy the magnificent unobstructed view of the lagoon and ocean. The spaciousness of this level is ideal for sharing and invites you to immerse yourself in lush natural surroundings.
Located on the garden level, the two bedrooms each have their own bathroom and direct access to the terrace and pool.
For those wishing to welcome more guests, or to extend their living space and enhance their personal comfort, it is possible to add an outbuilding. Depending on the model and plot chosen, one or two bedrooms and a bathroom can be designed.
The garage and shed are equipped with solar panels, for a renewable and ecological source of energy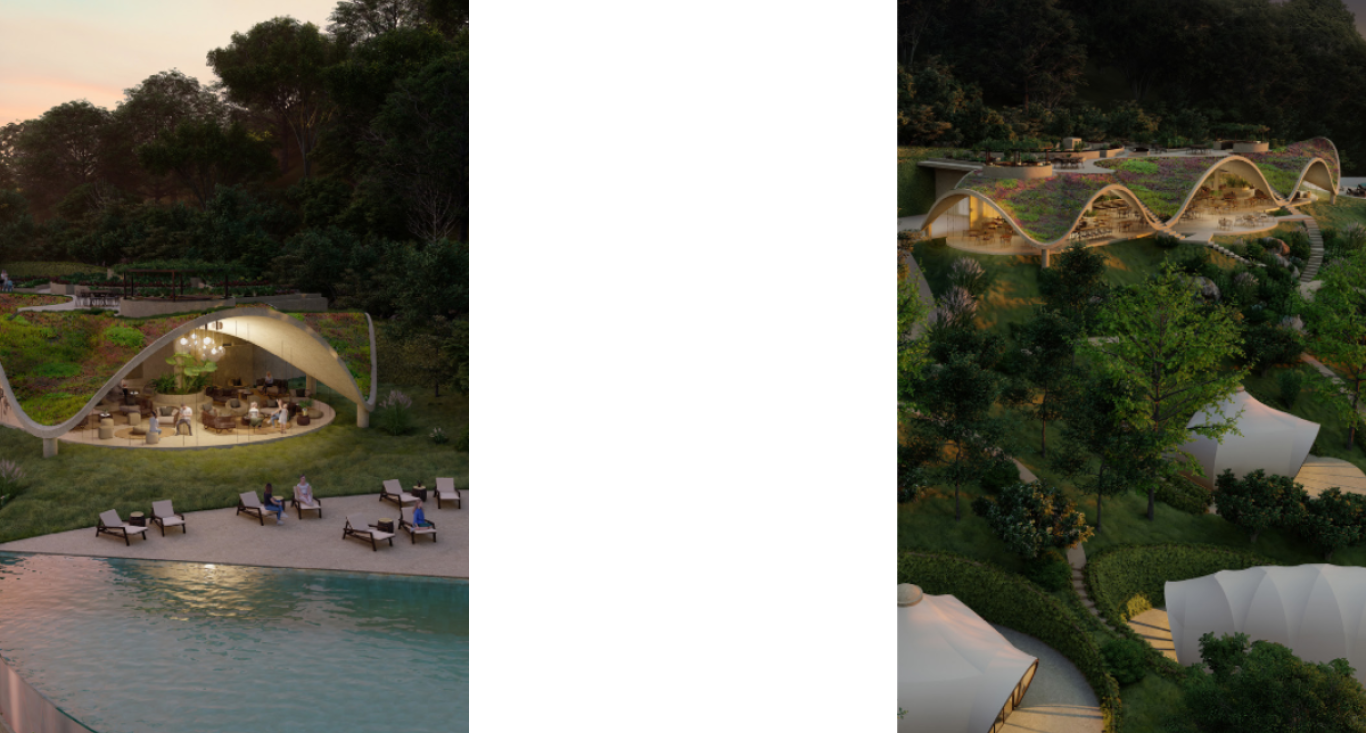 NOMADIC ANBALABA
For an even more complete experience, residents of the Nomadic Villas will automatically be members of the Nomadic Anbalaba resort.

The Nomadic Anbalaba ecolodge will offer 20 private luxury cocoons.
Each unoverlooked lodge overlooks the turquoise lagoon.

They will have privileged access to the restaurant, bar, spa and sports facilities, including a paddle court, gym and fitness trail covering an area of one hectare.

The Nomadic Anbalaba team is responsible for the maintenance and upkeep villa's outdoor spaces.