Purchasing a villa in Mauritius is adopting a particular lifestyle, especially prevalent in the summertime, from October to April. It's the time of the year where people live outside and bond with nature. It is also the ideal time to enjoy outdoor activities and leisure, all within easy reach of Anbalaba.
From early breakfast to a late dinner, imagine enjoying your patio, your garden, your pool throughout the season, because the summer climate leads people to live outdoors, around the clock. Buying a villa in Mauritius and spending the summer there gives people the opportunity to live life the Mauritius way, with doors and windows wide open and have the privilege to witness an idyllic landscape.
Purchasing a villa in Mauritius: a new austral summer experience
Unparalleled comfort and total serenity, this is what awaits you when purchasing an Anbalaba villa overlooking the beautiful Baie du Cap lagoon. Enjoying the sunset from your Anbalaba Des Hauts prestige villa and cooling off in your infinity pool with your loved ones before moving on to a barbecue dinner are among the pleasures to enjoy in the summer. With its interior patios, living rooms leading to beautiful open terraces and rooms overlooking the wooded garden, Anbalaba has created new architecture rules by removing the boundaries between inside and out, allowing to enjoy summer to the fullest. While the warm season encourages sunbathing, it can also give you wings and push you to reconnect with sporting activities. Besides swimming in the lagoon downhill, a leisurely walk, jog or skateboarding session is just around the corner, thanks to Anbalaba's quiet and wooded walkways.
The possibilities of discovery and escapism from the Anbalaba villas can go beyond the well-marked walkways.
Activities around Anbalaba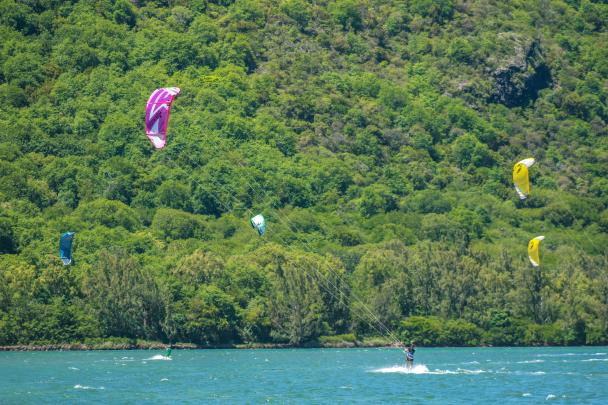 Between the lagoon and the mountains, the southern region is not only a sanctuary of natural beauty, but also an area made for outdoor and leisure activities. The austral summer is the ideal season for water activities such as paddling, boat rides, kayaking, snorkeling, as well as windsurfing and kite surfing, all of which can be enjoyed nearby, at Bel Ombre and at the Morne on the One Eye site. Those who prefer activities on solid ground can play golf on the beautiful Bel Ombre 18-hole course, two minutes from Baie du Cap, or go hiking in the Gorges de la Rivière Noire nature conservation area or climb the Morne Mountain with a guide, all of which are offered as "green" alternative activities in the southern region. But the possibilities of discovery and escapism from Anbalaba can go beyond the well-marked walkways. Plunging into the native forest of the Chazal eco-touristic sector, along the trails of the first French explorers in the scenic village of Souillac and taking a stroll along the romantic beach of La Prairie, are among the other ways of discovering Anbalaba's surrounding environment. These are the pleasures of buying a villa in Mauritius.
Activities around Anbalaba