For months, Sophie Warlouzel has been working on the creation of a Multi-Sport association for the children of Baie du Cap village. She's spent a large amount of time with the village's young people to better understand their needs and work out which sports they like the most.
It quickly became apparent that football was their favourite sport. Two local men, Ernest and Eric, volunteered to run the club and train the children. But first they had to tackle a lack of equipment: the club didn't even have any footballs! Working with the entire Anbalaba team, we launched a campaign to ask for donations of training equipment (balls, training ladders, goal nets, etc...). Our friends from Cabestany in France – including Richard Castello and his fellow members of the Catalan Adventurers association, as well as the Casa Sol shop – sent us a huge bag of football equipment for the Baie du Cap youngsters: 22 footballs, two training ladders, two goal nets, shin guards, shoes, cones, jumpers, etc.
Multi-Sport association in Baie du Cap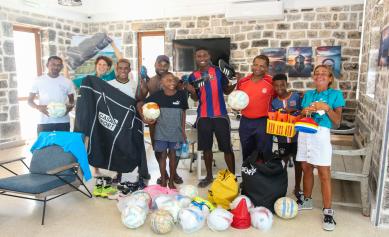 Delivery of the football equipment
With Sophie, Ernest, Eric and the whole Anbalaba team, handing over the gifts we'd received from the Catalan Adventurers!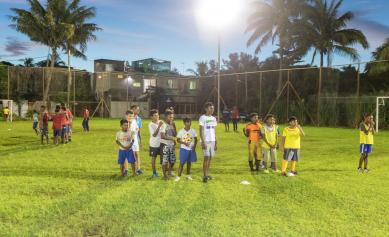 First evening of training
It's cooler at night, so the children train on the Baie du Cap football field from 5pm to 7:30pm.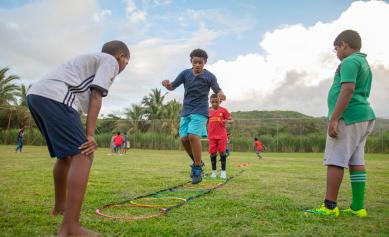 Warm up exercises
The children train three times a week, on Mondays, Wednesdays and Fridays.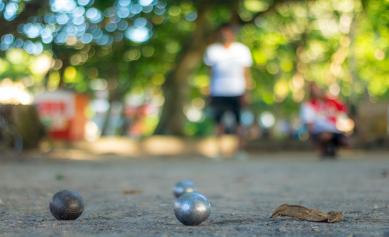 Pétanque After football
Pétanque is the most popular sport in the village!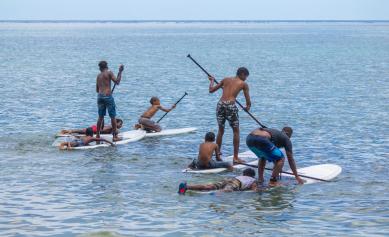 Watersports Every Tuesday
Allan Ricaut and his team instruct the children in water sports such as stand-up paddle.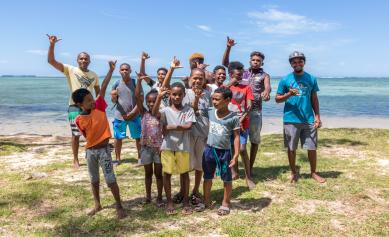 Baie du Cap's future sportspeople
All of Baie du Cap's young people can join us from 5pm to practice their favourite sport.
INTER-STREET FOOTBALL TOURNAMENT AT BAIE DU CAP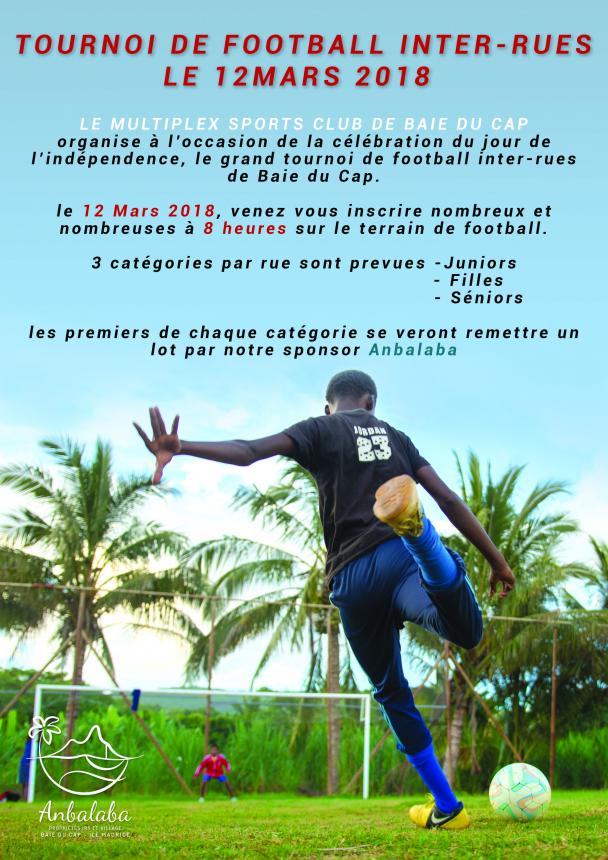 The 12th of marsh 2018, to celebrate the 50 years of Independance of Mauritius, the football players of Baie du Cap organised with Sophie, the Anbalaba' team, and Ernest, and Eric a Tournament Inter-street Football at Baie du Cap. And the Ministry of Sports and youth particiate also offering to each team medals. It was a beautiful day with lots of emotions, and encouragements for this new Multi-Sport association in Baie du Cap.


One of the first action of Anbalaba foundation