Les Terrasses d'Anbalaba - BIGARADE

Les Terrasses d'Anbalaba - CALAMONDIN

Les Terrasses d'Anbalaba - COMBAVA

Les Terrasses d'Anbalaba - POMELO
Villas
Les Terrasses d'Anbalaba
Anbalaba's terraced houses offer pleasant living spaces of over 200 m2 with three bedrooms on plots measuring 600 m2.
Contact us
A question ?
One of our advisors will be happy to help you
Un stand up paddle est réservé à chaque acquéreur d'une villa, pour allier sport et détente sur le lagon, au pied de Baie du Cap.
Offering  200 m2 of living space on plots of 500 to 850 m2, and designed to impart a sensation of utter wellbeing, these houses are notable for their unique terraced design.
Laid out around a patio that widens onto a beautiful veranda and pleasant swimming pool, the houses also open onto the verdant hills of Anbalaba: multiple tropical essences against a background of sparkling ocean.
The houses' three bedrooms, including a master suite with a view of the pool, together with their cosy living spaces, which include an open-plan living and dining area, bring together all of the elements of everyday comfort.  
The Villas
OUR MODELS
200 m

2
Average of the area
Les Terrasses d'Anbalaba
The 33 exceptional houses that make up Les Terrasses d'Anbalaba are grouped into three charming and distinctive districts, whose names reflect their location within Anbalaba: Côté Manguiers, Côté Lagon and Côté Village. The former boasts a unique forested setting graced with centuries-old mango trees and a picturesque creek, while the second district offers stunning views over the shimmering waters of the lagoon. The latter is ensconced within an exceptional endemic garden, only steps away from Anbalaba village and its many amenities. Regardless of where they are located, the villas are built on terraces, allowing them to blend seamlessly into the lush, undulating landscape of Baie du Cap.
Taken together, the project's five different house designs make for an elegant built landscape in perfect harmony with the site's topography, offering glimpses of the cerulean lagoon and taking into account the path of the trade winds. Their names evoke the fragrance of citruses: Bigarade, Calamondin, Pomelo, Combava and Cédrat.
Pack deco
Zen Atmosphere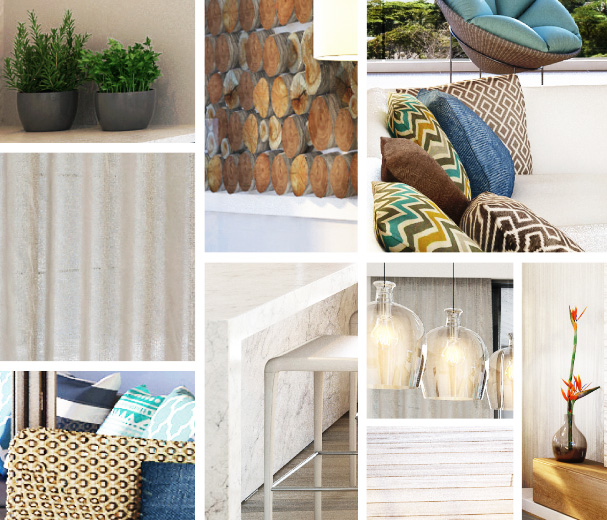 The Zen Atmosphere pack is characterised by soft, soothing, natural hues such as beige and white, conducive to relaxation and serenity. To these restful shades are added fluid lines and careful lighting. Together, they create a muted, cosy atmosphere and a sense of fulfilment.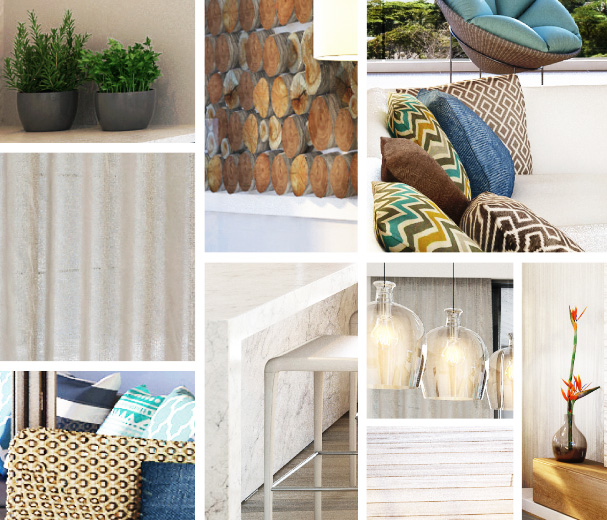 Subscribe to our newsletter