The beauty and creative energy of the brand new mural by painter Vaco for Anbalaba leaves no one indifferent!
Curious passers-by already stop there, photograph it and don't hesitate to take a selfie in front of it! This mural, displaying the colors of Mauritius, anchors Anbalaba even more in the local culture.

Here is the work of art created by Vaco. It is inspired by Mauritius, with its sumptuous colors and everyday life, which the artist is so fond of. With this mural, Anbalaba wishes to make all visitors and tourists aware of the beauty of Mauritian culture. 
Vaco: the obvious choice for Anbalaba
Since the beginning of the project, the team has always been inspired by the local artist. Vaco is the source of Anbalaba's identity, including its colorful logo. This collaboration helped to highlight Anbalaba's admiration for Mauritian culture.
When the idea for a mural arose, choosing Vaco therefore seemed obvious!
"Baie du Cap, Village Créole, Village de la mer des pirogues qui remuent leurs hanches au rythme du vent et de la vague que berce le Séga... Anbalaba" Vaco.
The progress of Vaco's mural for Anbalaba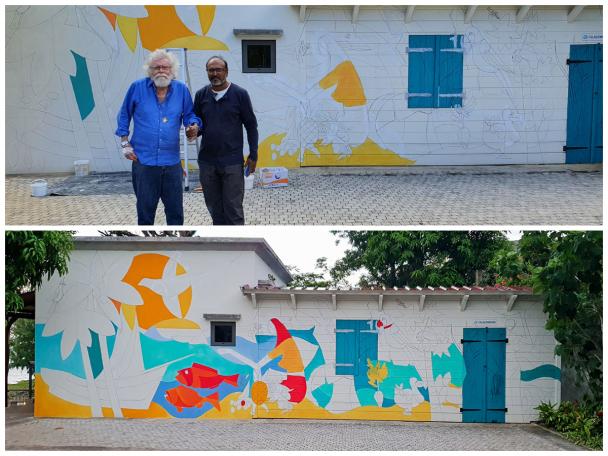 Vaco is the author of this work of art. He designed it and chose each color that composes it.

Although the artist's age did not allow him to paint a mural of this size, he called on Ridwan Hossany, an art teacher at the College of the Holy Spirit in Vacoas, to reproduce the drawings on the wall. His actions were guided by Vaco, who was present on site throughout the realization of the mural. In the photos, we can see that from the first brushstrokes, the flamboyant colors brought this magnificent drawing to life.

The south of Mauritius now has a must-see location for the most beautiful Instagram photos! Take a picture of yourself in front of the artwork and publish it by tagging the location: Anbalaba Mauritius - IRS Properties & Village.

We will soon share with you the photos from the opening night of Vaco's work for Anbalaba!