If you are looking for a villa to rent in Mauritius to spend your vacations, the Villa des Sens is made for you!
One of the Pomelo villas of Domaine d'Anbalaba has recently become available for rent. The Villa des Sens by Laurent and Estelle is a villa that fully immerses you in the Mauritian lifestyle. Close to the village of Baie du Cap, the property is integrated into nature with a sublime view of the lagoon of the south of the island. This prestigious villa for rent in Mauritius promises vacationers an unforgettable stay!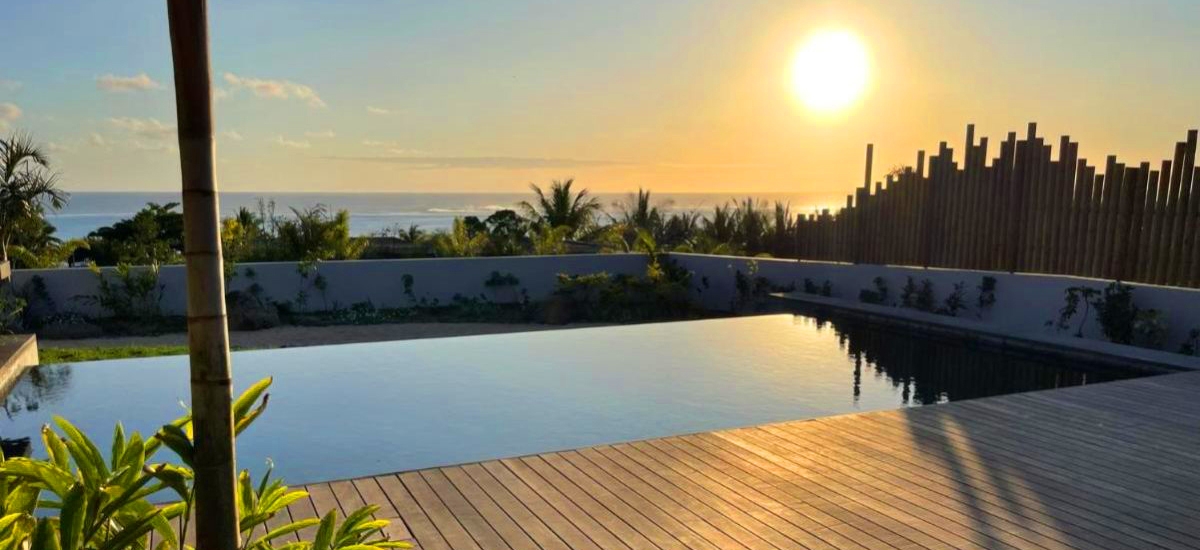 "The villa is wonderful, with a sleek, neat, soothing decor, [...] many amenities including an infinity pool with a view of the sea, which offers exceptional moments of relaxation."
A PRESTIGIOUS VILLA TO RENT IN MAURITIUS: THE VILLA DES SENS OF ANBALABA
Staying at the Villa des Sens is to ensure a dream vacation and moments of relaxation and well-being in an exotic scenery! The architecture of the villa was designed to be in harmony with nature. Its contemporary style coexists with the lush tropical vegetation. The design was conceived to preserve the beauty of the area and promote sustainability.
THE ROOMS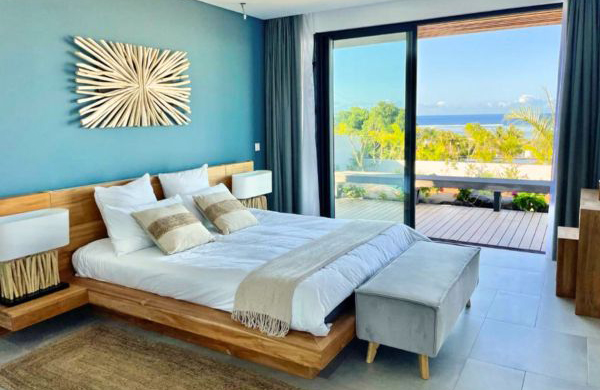 Each of the rooms in this villa for rent in Mauritius has been designed as a tribute to the elements: the Ocean Suite, the Earth Room, and the Sky Room. They all have a bathroom with 2 showers: indoors and outdoors.
THE LIVING ROOM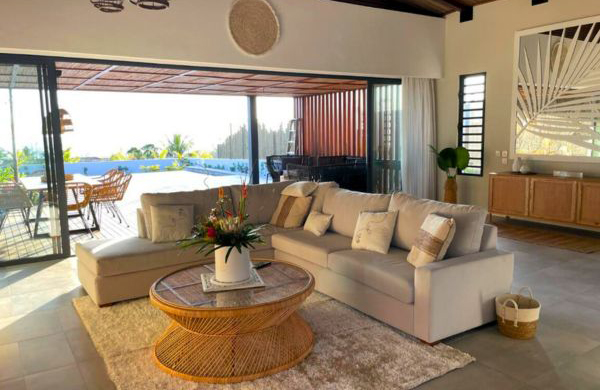 The living room is tastefully decorated in neutral and relaxing tones. It opens onto a magnificent terrace that extends into an infinity pool. The view from the Villa des Sens is breathtaking. It overlooks the blue waters of the lagoon and its sublime sunsets.
DISCOVER THE DOMAINE D'ANBALABA IN VIDEO
THE DOMAINE D'ANBALABA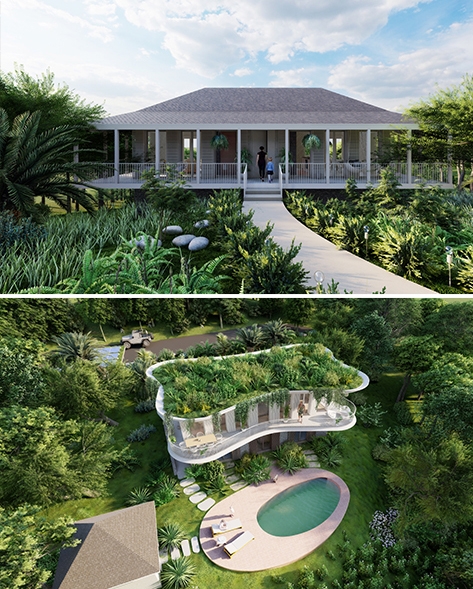 After the success of the first phase of construction, in collaboration with Eric Chavoix Architects and Nomadic Resort, Anbalaba launches the construction of 14 new villas. Located on Les Hauts d'Anbalaba, the Guetali and Rivulet villas present a unique concept in Mauritius: they are bio-climatic.
Contact us for more information!